"You have brains in your head. You have feet in your shoes. You can steer yourself any direction you choose."
Theodor Seuss Geisel (1904-1991) American writer and illustrator
from "Oh, the Places You'll Go!"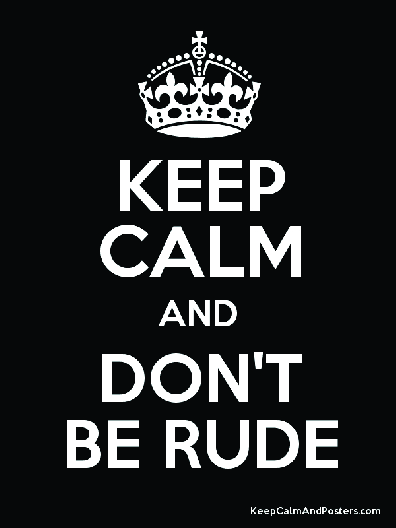 I could be wrong, but does it seem people, in general, are becoming more rude and more ill-mannered than ever before, especially during this holiday season?
Unfortunately in this day and age, where one can hide behind a computer, phone, or an SUV there's a tendency to act in ways most people would never do face-to-face. (However, some have no problem being rude face to face).
Watch any news broadcast and you can see almost daily examples of discourteous and rude behavior rampant all across America. When outside extenuating circumstances push down on people, the natural reaction is  be stressed and on-edge. This in turn is a downward spiral because the times when people are the most rude is usually when you are the most stressed.   Using what's going on in the world is no excuse for rude behavior especially if you are an Ambassador for Christ.
Now then we are ambassadors for Christ, as though God did beseech you by us: we pray you in Christ's stead, be ye reconciled to God. -II Corinthians 5:20
Being kind and respectful should not be affected by the situation, interaction or environment.  It should be a foundational behavior and trait deep within all of us and one not easily swayed.  The golden rule still applies ESPECIALLY in times of turmoil.
With this in mind, I would like to offer a few suggestions on the topic of rude people in business or your personal life.
1.)
Remember the golden rule and treat others as you expect to be treated. (I think some people are confused and believe the golden rule is "do unto others
before they do unto you")
So then, whatever you desire that others would do to and for you, even so do also to and for them, for this is (sums up) the Law and the Prophets. – Matthew 7:12 (AMP)
2.) Remember, you can destroy a relationship in a matter of seconds with a rude email, phone call or interaction.
3.) Double check all the facts before you communicate, especially if you have a conflict.
4.) Use kid gloves when emailing. Email correspondence is often dehumanized and lacks the real emotional intent. Way too often someone gets their feathers ruffled from an unintentionally blunt email. There is a reason that :), LOL, JK and other softening emoticons where invented. We are all busy, but we should always take the time to soften demands, commands, rebuttals, sarcasm and questions when you are sending an email. You must over emphasize everything.
5.) Don't fall into the trap of responding to rudeness with rudeness and as hard as it may be at the time, reply with kindness and respect. Take the high road.
6.) Be Thankful, No matter what the situation is, you can always find something to be thankful for.
In everything give thanks; for this is the will of God in Christ Jesus for you. I Thessalonians 5:18
Notice it doesn't say "BE" thankful for everything, it says "IN" everything, every situation we can find something to be thankful for. There is a distinct difference.
7.) Just make up your mind to be nice! – life is way too short to be rude. About five years ago I made a decision to never again get road rage. Though there have been several times I had to bite my lip, I've never lost my temper or made foul gestures.  When something happens, I breathe in and say "This is the day the Lord hath made, we will rejoice and be glad in it." Then I just smile at the offended or offender. Driving is much more pleasant now.
What if we all did the same?  How would that affect our communities?